I have been watching a lot of Netfix's 'The World's Most Amazing Vacation Rentals' recently and it has put me in mind of all the places I wish I was waking up. It's been a long time since I've travelled anywhere other than from my bed to the sofa, but with restrictions to travel opening up all the time, I have been thinking a lot about where I would like to go and why. One of my favourite parts of a holiday is getting to wake up somewhere new, with that surge of excitement for the day ahead. The best way to start your day has got to be knowing your day is going to be amazing, and if the first thing you see when you open your eyes is, for example, the Champs-Élysées, you know you're off to a good start!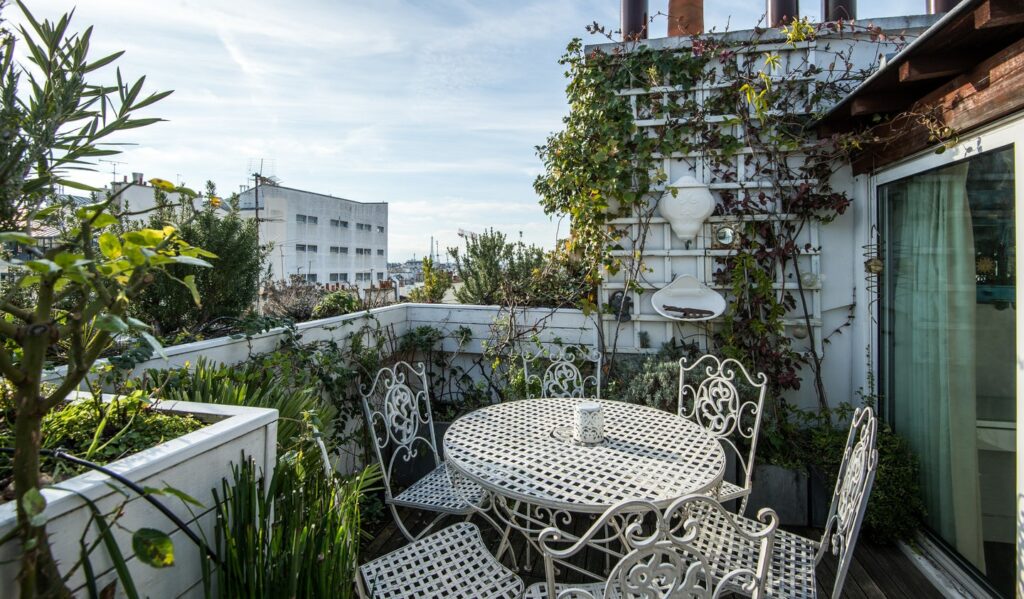 Wake up in Les Rideaux Verts, Paris
Speaking of the Champs-Élysées, who doesn't want to wake up in the centre of Paris? In my dream world, where I am vastly more debonair, I wake up every day in an apartment in Paris overlooking the Seine. I wake up easily, already in a good mood, and I run out to grab something from the patisserie as well as un café, which I then take back home and sit and enjoy the morning on the balcony I definitely also own.
Now my life is currently quite far from this cosmopolitan dream, but I would risk it all to stay somewhere like Les Rideaux Verts, a flat in Paris' 5th arrondissement. On the third floor of a 400 year old building, this place is filled with gorgeous antiques, and up the spiral staircase and past the double bed is a balcony, from which you can see the Notre Dame. I love a balcony, I love a spiral staircase, and every time I've been to Paris has been better than the last. I want to sit and write at the antique desk, and then go out for a spot of book shopping in the Latin Quarter. But most of all, I want to fall asleep knowing I will wake to the sight of the sunlight touching a famous Parisian landmark. Très chic!

Wake up in The Eloise Suite, The Plaza, NY
I would be telling absolute fibs if I didn't include this hotel as one of my dream places to wake up. The Plaza New York has been my ideal holiday destination ever since I was a little girl, all thanks to Kay Thompson's Eloise books. A tiny bossy child who liked fancy things and speaking in Franglais? A tiny girl who loved pink and had my name? Eloise is such an unusual name and I was beyond thrilled to share it with the protagonist of Thompson's books. SO imagine my delight when I found out that you could literally stay in her room!
Yes, the Eloise suite, designed by Betsey Johnson, is a bit mad, and okay, so it completely contradicts my idea of a restful place to sleep. However! It's Eloise's room! It literally has my name on it! I rawther think I have to stay there at some point.
Walking down the corridor, you know which room is Eloise's because even the front door is pink. The 625 sqft, pink and white Eloise themed suite comes with: Eloise Bedding & towels; Eloise themed Tea Set; Eloise & Weenie (her dog) dolls; Eloise bathrobe and Eloise Book. Yes, it costs almost £2000 a night, but this is a dream scenario! I have never seen my own name written out so many times and I love it.(Look, I may never get to stay here, but at the very least one day I Shall go to the Palm Court and have afternoon tea).
Wake up in the East Gatehouse Lodge, Crieff, Scotland
You might be thinking: wow, Eloise! You sure have picked some posh stays! I wonder if you have a third, similarly posh option? Well, I was going to try and push myself to think of somewhere to stay a little more rugged or adventurous, but instead I'm leaning in! I particularly love Scotland, as my Nana Liz was Scottish, and would love to spend some time waking up in this castle-meets-cottage in Perthshire.
With comparatively bargain prices for my dream stays, starting at only £145 a night, I could stay in a literal turret like Rapunzel. The Eastern Gate Lodge, which stands at the eastern entrance to the 4000 acre Monzie Estate, is the perfect combination (for me) of fairy tale castle and cosy cottage. The colour scheme of the interior is so peaceful, with whites and blues and lovely hardwood floors. There are two bedrooms, and even a stone spiral staircase leading to the double bedroom. And, the piece de resistance: a window seat.
I have a long held desire to have a window seat of my very own. Not just a big window ledge, you understand, but a specifically placed seat that is big enough to sit comfortably on and while away the hours reading by the light from the windowpane. If it is raining, and I can hear the raindrops hitting the glass, then all the better. Spending a morning curled up with a good book is already my favourite start to the day, but getting to do it from a window seat in a turret? (By the way feel free to check out my list of books to read for the longest nights, as well). This stay in Scotland is just dreamy enough to make me feel like I'm in a fairy tale. Without being so over the top that I'm afraid if I breathe too hard I will destroy hundreds of years of history.