When life's hectic and stress is weighing heavy, taking time in the evening to wind down and relax is more important than ever. It's also commonly the time when those relaxation habits get pushed to the side in favour of an escapist Netflix binge or a mindless insta scroll. Now, don't get me wrong, sometimes the latest Scandi drama or a touch of Ru Paul is just the tonic for an overworked busy mind but combining that with some quick and easy practices using essential oils will add a whole other dimension to your evening wind down.
Here are some ideas to try…
Post work reset ritual
Having a clear cut off point from your working day is one of the most valuable things you can do for your work / life balance and mental health. Not always easy, especially if you are still working from home and your personal phone is also a work phone, but with a little conscious effort it will be 100% worth it. I use the Eve & Keel Reset Mist to spritz around my body when I finish work for the day. The fusion of orange blossom and vetiver helps me ground in the present moment while whole experience feels like an energetic ritual to release the days busyness and frustrations, helping me wind down and reset.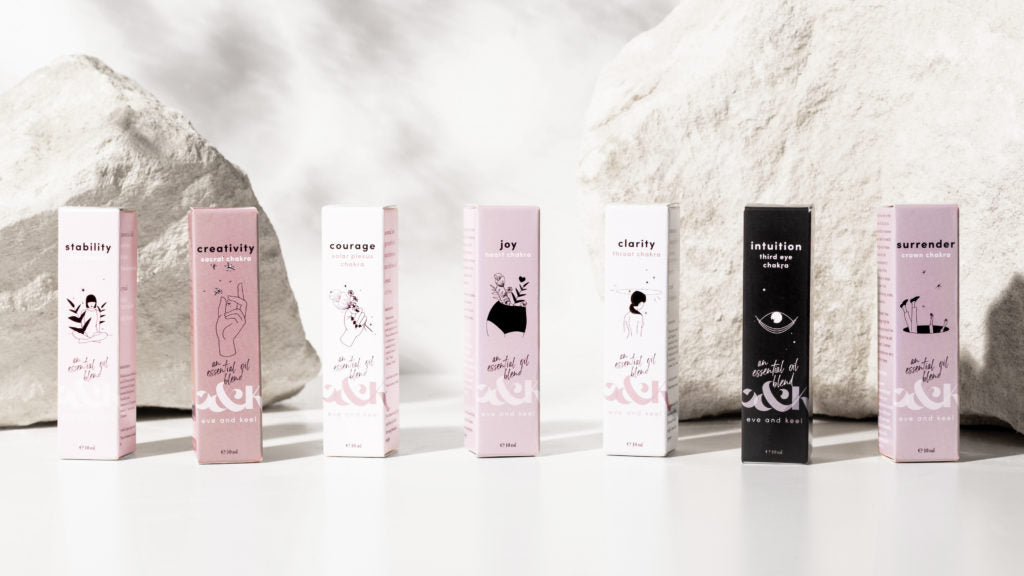 Diffuse
This is probably the easiest way to use essential oils and it's perfect to sit alongside your regular evening activities. Set up your diffuser (or oil burner) in the room you are relaxing in and add your choice of essential oils. It's that easy. Lavender, roman chamomile and mandarin is a lovely combination to prep your mind and body for a blissful sleep.
Stretch + roll combo
Combining some gentle stretching / restful yoga with an aromatherapy roller blend is a powerhouse for relaxation. It's the ideal opportunity to let go of any tension that's been building up in your body throughout the day as well as benefiting from the calming oils with some deep breathing. My favourite blend is the Eve & Keel Surrender Roller that's a mix of lavender, frankincense and neroli plus amethyst and clear quartz crystals.