There's only four more good wrapping days left! We have put together some of our favourite tips and tricks for making your wrapping look as cute and festive as possible, while still being good to the earth.
Let's go traditional, and use brown paper. This might seem boring at first, but just wait. This means you can use fun stamps and add different colours! Your presents can match any theme this Christmas. If you have kids, they'll know there's not much more fun than getting a parent or guardian to cut a shape in to half a potato, and then covering it in paint and going wild on some scrap paper. You can use kraft paper or recycle regular brown paper bags as your base for this easy DIY. We recommend going for the classics (ones that are easy enough to carve on a raw potato) like Christmas trees, or even just an initial for the recipient's name. Even let very little kids finger paint white dots all over – now you've got snowfall!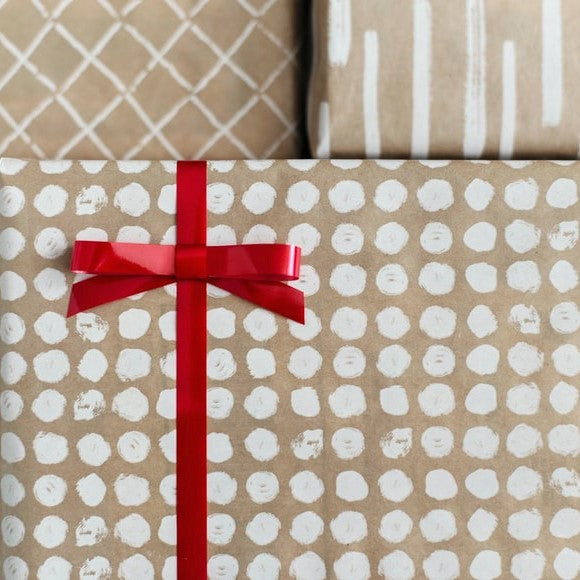 If you want to be really eco-friendly, try Furoshiki. This Japanese tradition entails wrapping your parcels in squares of fabric. Get scarves, either ones you already own or from charity shops, and tie them around your parcels! This makes for a fun and colourful way to wrap presents without generating any waste. If you pick really nice ones, they're like an extra gift. Plus, you can either keep them to reuse again next year, or donate them all back to a charity shop. You could even match the scarf to one of these gorgeous silk&jam hair bows, and then colour coordinate your gifting to the recipient!
Do you have a bunch of old atlases and map books left over from the pre-Satnav times? Why not cut out the maps and use them as wrapping paper! You're making use of stuff you already have, plus this would be especially great for any gift recipients who love to travel. Plus, something about maps is just really aesthetically pleasing.
Doing the wrapping can get stressful, so you should be as comfy as possible. This means pyjamas! Wear this classic set from Their Nibs while you do the wrapping.
Wind down at the end of a hard day of wrapping with one of our favourite Christmas films, which you can read more about here.