Having a haircare routine involves daily effort. The night-time provides an opportunity to provide some TLC for our hair following the stresses of the day. It is also, however, a time when it is extremely vulnerable. Preparing for a full night's rest means we leave our hair in the same condition for several hours once asleep. This could be either a deeply nourishing or damaging period of time.
Finding a haircare routine before going to sleep for the night, suited for our individual hair types, can make or break the condition of our hair. Individual hair goals, such as healthy growth and retaining moisture, rely strongly on what we do before bed.
Night Time as Wash Time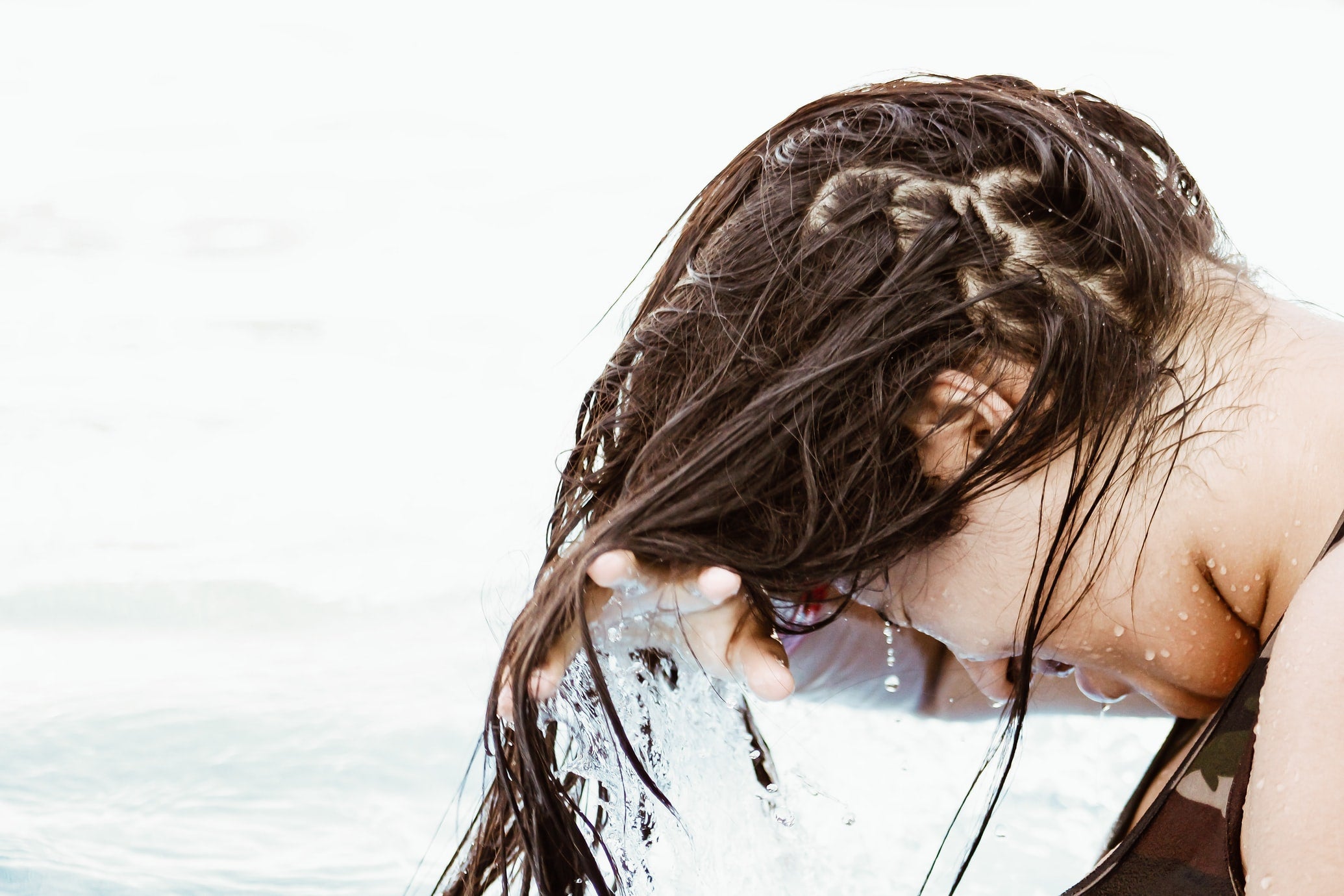 Although we typically associate washing our hair as a daytime activity, experts claim cleaning your hair before bed has many benefits. "It is better to wash your hair at night rather than the morning so the hair has time to dry naturally. Especially for coloured hair," stylist Dani Faraj of Brighton Salon advises.
Excessive exposure to heat can be deeply damaging to our locks. Dyed hair is especially vulnerable to breakage, so washing at night offers the opportunity to avoid unnecessary damage. Drying naturally also has the benefit of enhancing your natural hair texture, rather than a straightening blow dry.
Having the extra time at night allows for a more nourishing treatment for your hair. Applying a treatment such as Ikemian's Shea Goodness Hair Butter onto damp hair, after shampoo and conditioner, gives hair some extra TLC. This added moisture will ensure hair has extra volume and help boost growth.
Just ensure, however, hair is fully dried by the time you go to sleep. Sleeping with wet hair can cause breakage, and your pillow could run the risk of becoming mouldy.
The Perfect Pillow
With freshly cleaned hair, we may feel reluctant to press it into a pillow for eight hours a night. Often, we may wake up to find our hair is greasy once more. Cotton, according to dermatologist Yoram Harth, extracts the natural oils of your hair and skin into the material and creates a pool of bacteria where you lay your head down for the night. Lying on your pillow for hours undoes the work put in from washing.
Silk pillows, such as the Mela Eucalyptus Silk Pillowcase, offer a solution. Its lightweight material is kinder to hair and skin, and doesn't absorb as much bacteria. Temperature-controlled and hypoallergenic, your mane will wake up fresher than ever.
Using a Mask
Instead of a rushed hair wash during the day, taking the time to include a mask in your haircare routine can seriously benefit your mane. A night-time wash including a mask provides much-needed hydration before sleep, and helps create shine. Using a mask like Ashanti Cosmetics' Good Hair Day Mango Hair Mask will build strength in your hair from the scalp and repair breakage. This is particularly helpful for those who colour their hair, frequently use heat, or have other types of hair damage.
Haircare for All Hair Types
Your nightly haircare routine will depend on your hair type. The haircare substance you use can help or hinder the quality of your hair overnight. For curly hair, a healthy dose of keratin, often found in leave-in conditioner, is recommended by nurse practitioner Cynthia Cobb. Keratin has strength-building properties that reduces frizz and enhances shine. Bonding the hair together, keratin will also encourage growth and protect your curls from split ends.
For wavy hair, a lightweight oil should be worn overnight for 6-8 hours. To prevent greasiness, ideally this should be done the night before hair wash day. This will allow you hair to lock-in much-needed moisture overnight. For wavy hair, this will prevent frizz and flyaways. It will also allow for a strong curl definition to emphasise your natural waves. Alchemy Oils' hair remedy, for example, blends five natural oils – grapefruit coconut, avocado, almond, and castor oils. Together, they leave hair strong and shiny, and help create a peaceful night's sleep.
To keep straight hair full of volume, oil can give hair a boost in moderation. Excess use, however, can leave hair limp and looking greasy. A lighter substance, such as hair mist, can help add a lift without pulling hair down with its weight. Drying off from a nightly wash with a hair diffuser will bring volume for days, without too much heat damage.
Time to Tie?
Nobody wants a face full of hair when they're trying to drift off for the night. This is often frustrating for those of with us with particularly long or curly hair. The temptation is to tie it back to ensure a peaceful night's sleep, but tying hair back overnight is known to cause breakage. Using an elastic tie to keep hair out of the way for several hours a night puts your hair at risk, warn hair loss experts.
Pulling your hair back tightly all night runs the risk of hair falling out. Overly-tight hairstyles can cause strands to recede or cause breakage. This can even lead to developing traction alopecia.
Instead, you could avoid tying your hair back altogether. Alternatively, using a scrunchie, especially one made of velvet or silk, puts much less strain on the hair. A silk scrunchie, is much kinder to hair. Silk&Jam's range of scrunchies, for example, uses gentler material on your hair to ensures moisture is retained, and keeps frizz at bay.