Stay Warm During The Cold Winter Months With This Innovative High-Performance Sleepwear
With winter fast approaching, curling up for a night's sleep in a warm, cosy bed holds a special allure. However, according to a recent survey almost half the population suffers sleepless nights because of the cold. With temperatures usually at their lowest in the early hours, many people find that they are often too cold to be able to get a good night's sleep.
A great way to keep you warm in bed so you get the quality sleep you need, is to invest in sleepwear made from natural fibres such as wool, cotton or silk as it will keep you warmer than synthetic materials. I therefore welcomed the opportunity to trial the Stay Warm Sleepwear Collection by Swiss-Swedish sleepwear brand Dagsmejan. This luxury sleepwear is designed to provide exceptional breathability with high thermal resistance, meaning you can ditch the electric blanket and bed socks and stay comfortably warm throughout even the coldest night without the risk of overheating.
The collection features Nattwarm™ fabric which has been specially engineered to offer ultra-light and breathable warmth. It's a blend of natural performance fibres; the finest mulesing free merino wool for comfort and warmth and TENCEL™ from eucalyptus, nature's high-tech fibre, for breathable softness. Merino wool sleepwear has been proven to keep you as warm as fabrics up to 50% heavier, whether cotton, bamboo or synthetic and research also shows that merino wool regulates your body temperature far better, keeping you in what is known as 'the thermal comfort zone', most conducive to restful sleep. You therefore not only fall asleep quicker, sleep longer, but also have deeper, better quality sleep. Enjoying good sleep for many people has become increasingly difficult so anything that helps achieve this is a real plus for one's mental and physical health.
By assessing our nightly temperature and sweat patterns, as well as sleep positions and movements, Dagsmejan has designed a stylish and sustainable sleepwear collection which couple luxury with innovation and comfortability with science. Stay Warm sleepwear include zones that draw away moisture to keep you dry and comfortable, whilst the four-way stretch of its garments enhances fit and provides a natural range of movement. By excluding tags and using flat ergonomic seams in its design, Dagsmejan ensures its sleepwear provides supreme comfort throughout the night. All steps in the production process are also OEKO-TEX certified.
The sleepwear arrived in Dagsmejans' signature luxury boxing. I was amazed by how fine and lightweight it was and also how incredibly soft it felt. However, the real test was still to come – would it deliver on its promise and keep me warm without the risk of overheating, throughout the night?
Well I can state categorically that the sleepwear truly delivered on this front. It was super comfortable, ultra-soft and kept me beautifully warm all night with no overheating, allowing me to achieve a successful night's sleep. What bliss!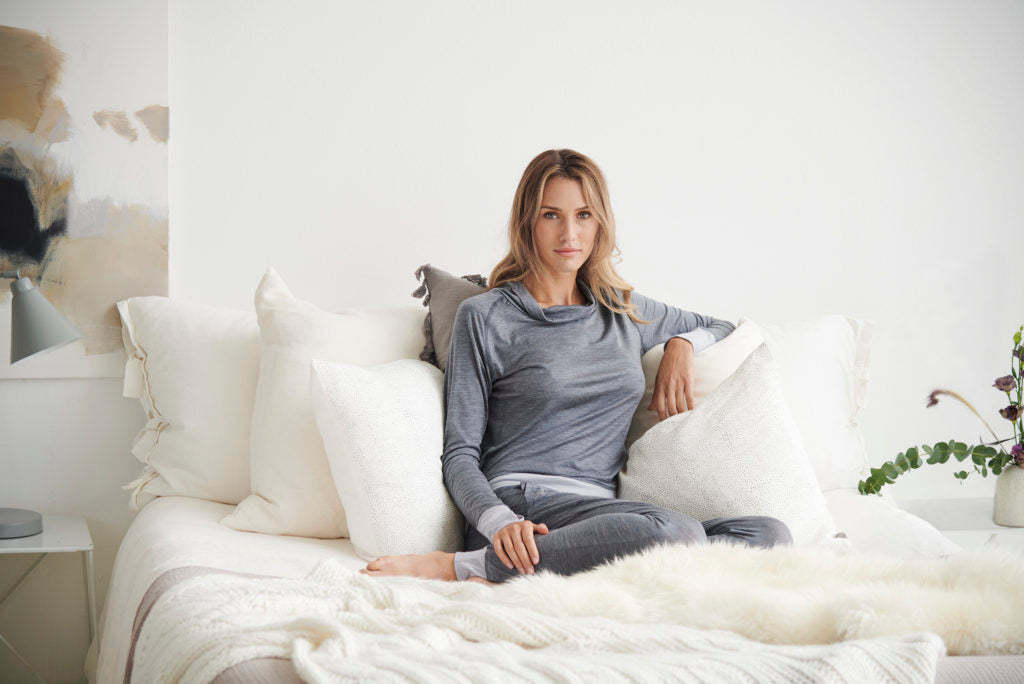 Because the natural fibres of Stay Warm sleepwear are breathable and offer thermo-regulation, they adjust to your natural temperature preventing you from becoming too hot or too cold, so those of you who struggle with the misery of overheating at night, (whether through hormone imbalance, menopausal symptoms or illness), can also benefit from this sleepwear as it's designed to draw away moisture, keeping you wonderfully dry and comfortable throughout the night.
So, if you find yourself waking up chilly and shivering, or hot and bothered, in the early hours, consider investing in this innovative and stylish Stay Warm sleepwear – it will guarantee you the perfect temperature and ultra-comfort for a great nights' sleep.
Shop Dagsmejan's Stay Warm Collection here