We probably remember all our baths as children, bubble baths, splash baths or maybe just a cleansed shower after a day's play. Bathing routines are usually appreciated by children of all ages and are also an important element in keeping the skin clean and healthy.
Did you know that the skin is the body's largest organ and that it's in direct contact with the internal organs, at the same time as it protects us from viruses and bacteria?
For a small child, the skin is much thinner and also much more sensitive to external factors. Therefore, it should be obvious that skin care products for children would be completely free of chemicals. But unfortunately that's not the case. The list of hormonal disruptive and other proven harmful additives in non-organic products is long and continuously growing. And it was with that knowledge Little Cirkus was created. Little Cirkus is a Swedish children's brand that was launched after the founder Anna Aro Ring had a hard time finding skin and hair care products that were natural and nourishing for her son. She felt that a change was needed. The result is a product series without compromise, with a promise of natural, effective and nourishing skin care safe for the sensitive and thin baby skin. Little Cirkus have blacklisted all potentially harmful ingredients in order to offer the safest products for the little ones.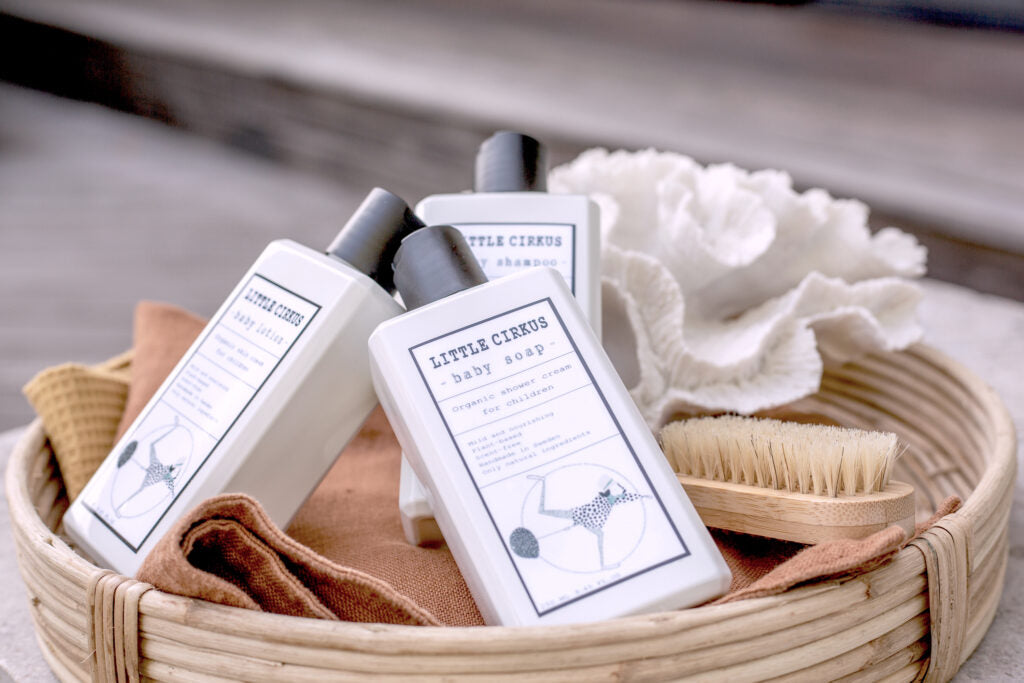 To get the best conditions for your child's skin, it's important to follow a routine that can build up the children's skin barrier in a gentle way. By following our advice, you will be able to maintain the natural moisture balance and gently clean and moisturise your baby's sensitive skin.
• Keep the skin even and moisturised. This is achieved by lubricating the face and body at least twice a day. Little Cirkus baby lotion is an emollient cream that provides natural nourishment to the skin. The genuine content soothes the skin, and treats various skin conditions. A perfect cream for the whole family and all skin conditions.
• Do you feel that your child has extra dry skin? First clean with Little Cirkus baby soap, which acts as a washing oil and leaves a velvety feeling. Finish by lubricating with the baby lotion. This is done with advantage before going to bed.
• Bath is gentler than shower. The skin is softened and dead skin cells are removed so that moisture can penetrate deeper into the skin. Wash the baby clean with shower cream that increases the skin's protective barrier and leaves it smooth and soft. Finish your bathing ritual by lubricating the whole body with the baby lotion.
• Wash the baby's hair twice. The first time you get rid of all the dirt and the second time the hair becomes deeply clean. Does your child suffer from dry scalp, scabies or do you find that the shampoo stings in the eyes? Little Cirkus shampoo lacks foaming agents and other chemicals that can be irritating. It moisturises the scalp while deep cleansing the hair.
Little Cirkus was born with a promise to create effective and nourishing skin care for children. When we create each product, we always strive to reduce our ecological footprint and always put children and the environment at the center.