Luna & Noon is a luxury British pyjama brand for women and men, with hand-painted prints that are inspired by travel. Their debut collection is centred around the beautiful island of Borneo featuring orangutans, clouded leopards and other flora and fauna native to Borneo.
Their ethos is to give back to the regions that inspire their collections, and as such 1% of all their sales revenue is donated to chosen causes in those areas.
We speak to Sinthu and Bairavi about why they started Luna + Noon and what makes their pyjamas so special
---

Tell us a little about yourself, and what inspired you to create Luna & Noon?
Travel, relax, unwind, sleep well, good vibes and giving back are just some of the values we live by. We lucked out when our significant others introduced us over 15 years ago. Finding a girlfriend that shared the same interests in fashion, trends and style is rare and we've shared some great memories together. Travelling and experiencing new places has been a big part of our lives. We love milling around markets and looking at the local styles and prints. We wanted to find a way to share our experiences with you. Fast forward to today and here we are with Luna & Noon. We've created travel-inspired printed pyjamas that are comfortable enough to wear night and day. Whether it's at home or on holiday, everyone deserves to unwind and relax in style. Our prints are hand-painted and exclusively designed for us; each print has its own timeless story to tell and we believe that these not only transport you elsewhere in the world, but also inspire you to create your own memories and experiences in them.
---

How did you choose the name?
Luna & Noon is a play on words, for night until noon the next day (or all day everyday if you prefer!). We wanted to create quality-made pyjamas that aren't just to sleep in. Our prints are designed to make a statement using fabrics that make you feel comfortable and stylish enough to wear them whilst lounging with family and friends.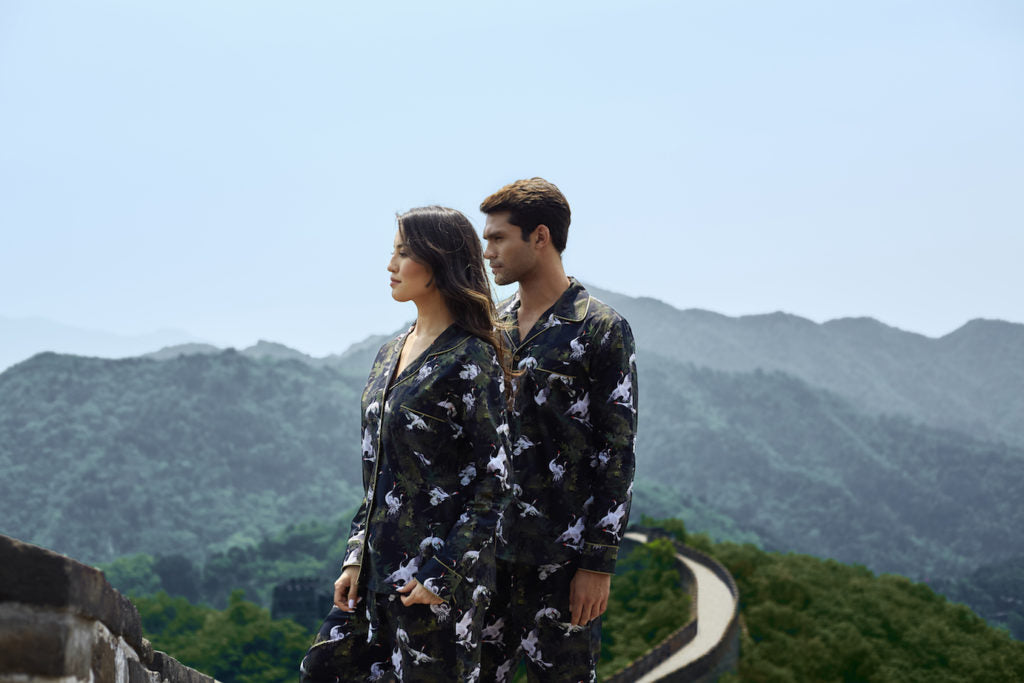 ---

What makes Luna & Noon completely different to all the other pyjama brands out there?
There are some great PJ brands that have come up recently that we absolutely love. But at Luna & Noon we feel there are three things that set us apart from the rest; our prints are bold and beautiful works of art from our very talented British designer; comfort and quality is paramount, because although everyone likes a bit of sexy nightwear now and then, we need PJs that you just want to jump into as soon as you get home from a hard day's work and those that will last; and the third reason is that we strongly believe that giving back should be built into the mechanism of every business. We direct 1% of all of our revenue to great charities that work in the regions that have inspired our collections.
---

Can you explain how Luna & Noon work with the New Hope Foundation in China?
Our latest collection, Immortal 8 has been inspired by the ancient dynasties of China taking you back in time to days gone by. Our prints pay homage to the great Emperors and Empresses that once ruled in China. In line with this collection we decided to choose the New Hope Foundation based in Beijing, China. They provide loving care as well as arranging medical treatment for orphaned children. 1% of all sales generated is donated to this amazing charity. Children are the future and we need to invest in ensuring that every child is given the best opportunities.
---
Why did you choose cotton for your sleepwear?
We chose cotton as it's the most breathable fabric, it keeps you cool during the summer months, but also snug as a bug during the cooler months. We have added 4% Elastane to the fabric to not only give it a little more stretch but more importantly make it easier to care for. Less ironing is also a winner in our eyes!
---

What has been the most rewarding feedback you have received from a customer who has purchased one of your products?
We've had some really touching feedback from our L&N customers as well as stylists via all of our social media channels, which just honestly fills us with pride and helps us to know what we're doing right and what to do next. One example was this feedback from a lovely customer who wrote:
"Haven't had a pair of pyjamas since I was about 12…treated myself to a pair of these this week and oh my goodness, so comfy, so well made, such beautiful prints and doing some good too. Now I really don't want to go outside anymore."
That made our day!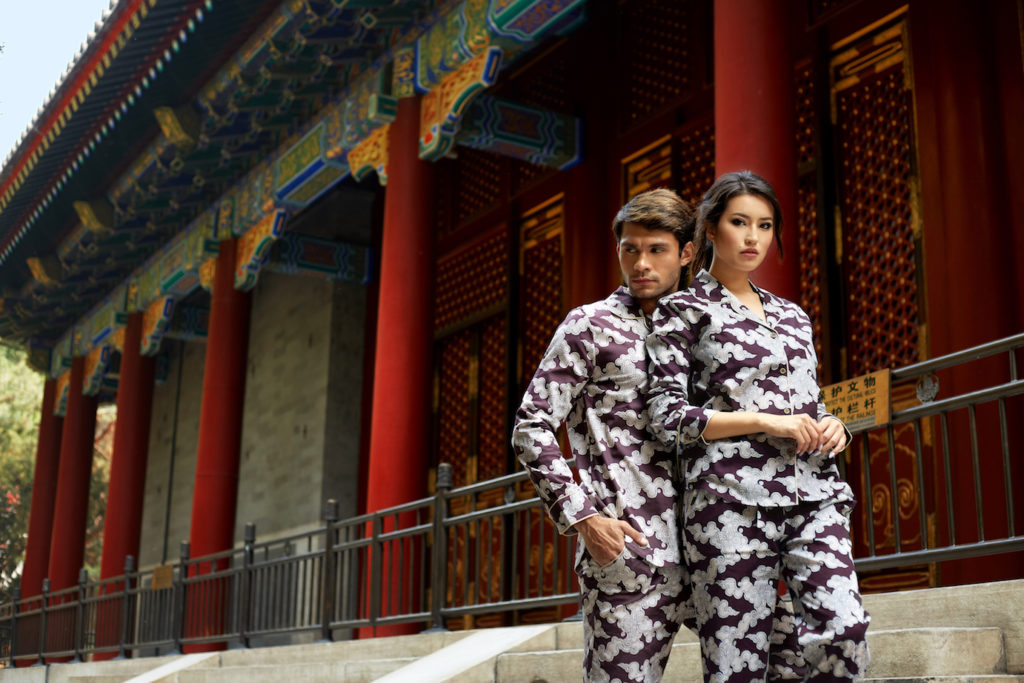 ---

Of the Luna & Noon products that we are featuring on myza, which is your particular favourite and why?
We love all the prints, but our personal favourite has to be the King Louie. It took us a few tries to get him right and we are so pleased with how he has turned out. The detail behind this little guy is endless, you can even see the tiny little hairs on his arms and legs! The King Louie evokes everything our brand is about; being care free, playful and doing it all in style.
---

Where do you see Luna & Noon being in the next five years?
We would love to expand the range into a wider product offering from resort wear to kids. We have even had requests to turn our prints into wall paper and soft furnishings. A big part of our ethos is to give back and to be able to do this on a bigger scale would also be something we would love to do.
---

What drives you, and where do you get your inspiration from?
As business partners we have to cover all bases of running a business especially with a start-up, but the best thing about our duo is that we are both very creative and have similar yet different visions when it comes to designing a range of prints. This is hugely beneficial because we go through a process of bouncing several ideas off one another and in the end, we come up with the range that caters for different types of customers. Some prefer more feminine and softer prints, whilst others love something more unisex.
Our inspiration comes from literally every where. Travel is the key source of inspiration, but it comes from the fact that we were brought up from a culturally rich background and we have a deep appreciation for all types of cultures including the old worlds and new. The beauty we see in nature, traditional fashion and architecture are all aspects we try to capture in our designs.
---

Finally, a few pearls of wisdom from you! Run us through your recipe for a great night's sleep, and some do's and don'ts that you recommend following, or including in a pre-sleep schedule.
Sleep is so important and as cliché as it sounds there isn't much a good night's sleep can't fix. Switching off from electronics at least an hour before bed will help your mind instantly become more relaxed (as hard as it is to switch off!). Eating earlier and not consuming caffeine also help contribute to a better night sleep. We highly recommend taking a mental stock of the day and clearing away anything that might make you anxious and worried, focusing on positive thoughts. It's so important to invest in good quality bedding, a good mattress and pillow will do wonders! Lastly an eye mask and of a course a pair of Luna & Noon pyjamas will help you wake up as bright as ever.
Shop Luna & Noon here