Laying awake in the middle of the night, anxiously trying to get some shut-eye is a common experience for many of us. But even for those without a history of insomnia, sleeplessness is an all-too regular occurrence in the midst of summer, as one tries desperately to find a position that is both cooling, and comfortable in the sweltering heat.
As a result, some will make the costly decision of alternating a selection of bedsheets and/or duvets throughout the course of the year.
But what if I were to tell you that this wasn't necessary? What if I were to propose, that there is one material that could keep you all snuggled and warm during the coldest months, and could keep you wonderfully cool even during the peak of summer? And indeed, what if I were to say that this particular material not only improves with age, but also, looks good straight out of the dryer?
It was that last one in particular – "a loathing of ironing" – that first got Jessica Mason, Founder of Piglet, into linen. Since then, Jessica has been determined to uncover the material's seemingly endless benefits – its durability, its rustic appearance, its breathability and so forth.
"I had been working in PR and marketing for a bunch of different companies for five years," says Jessica, "and admiring a new wave of e-commerce brands who were creating really meaningful connections with their customer base and a sense of community through social media," in reference to brands such as Glossier, or Gaiam.
"When I saw what I felt was a gap in the market for high quality linen bedding online, I pounced at the opportunity to combine my love of interior design and homeware with my interest in e-commerce."
And thus, Piglet was born – a direct-to-consumer e-commerce brand selling the finest in stonewashed linen bedsheets. Made from 100% natural stonewashed French flax, each of Piglet's products is founded upon a love and appreciation for this highly-adaptive material.
But then, Piglet isn't alone in its use of linen. So, what is it that makes Piglet different to other companies selling linen-based bedding?
"I think what makes Piglet stand out from other high-quality linen bedding brands is the unique range of colours that has stayed really up to date with interior design trends and the personal customer service." And indeed, it was due to Jessica's willingness to engage with her customers, and become what she had originally intended to – an e-commerce brand that formed meaningful connections with its customer base – that has allowed Piglet to grow in the way most preferred by its first, and most loyal followers.
"We started really small with just a few colours and a couple of sizes and found that talking directly to our customers about what they wanted and what would make their lives easier really helped us."
Saying that however, Piglet is not for just one 'type' of person. Whether it's parents with younger children appreciating the convenience of purchasing quality bedding online, or younger customers looking to acquire some bedding for university that won't require too much upkeep, Piglet is for anyone and everyone it would seem. Including, those of us eager to improve our sleep.
A large part of Piglet's appeal for example, derives from its products' adaptability, and this is particularly obvious when we turn our attention to sleep. When asked as to how Piglet is able to keep up with the rapidly-evolving demands of the modern sleeper, Jessica referred to Piglet's focus on ease and manageability.
"Our products are designed for people who want to spend less time on ironing and more time snuggled up in bed. We have heard from our customers that they sleep more solidly throughout the night in our bedding because of linen's heat regulating properties." In that sense, Piglet haven't sacrificed any comfortability when designing their bedding, focussing on maximising each and every benefit linen can have on its users.
Jessica herself, was quite nervous to share her more recent experiences with sleep, simply due to the fact that she was managing to get more than is often expected in today's 'sleepless' society. "I always feel a little embarrassed answering questions about sleep because at a time when everyone is struggling to get enough sleep I almost definitely get too much. If I didn't need to function normally in the world I think I could quite happily enjoy a solid 12 hours a day."
As someone who is currently experiencing a somewhat different relationship with sleep (I am currently running off 9 hours' sleep from the past three days), I asked her how that was even possible? A magic serum perhaps? An unnamed medicine of some sort?
"I personally really focus on making my bed into somewhere I love to be," she said. "Great bedding, restful fragrances and a good book all play a big role in helping me to unwind at the end of the day."
Indeed, it's easy to think of our bedroom as a multidimensional, all-in-one room in this day and age, capable of having us sleep in it, peruse the internet in it, eat in it and even work in it. And yet, researchers insist that the bedroom should be left as a place only associated with sleep. In other words, much like Jessica advises, no other stimulating activities should be done in your bedroom's vicinity if you're hoping to achieve a good night's sleep.
As for the future, Jessica has recently launched Piglet's very own linen pyjamas. Following months of testing, they're finally available for online purchase, and provide that same combination of comfortability and breathability provided in Piglet's linen bedding.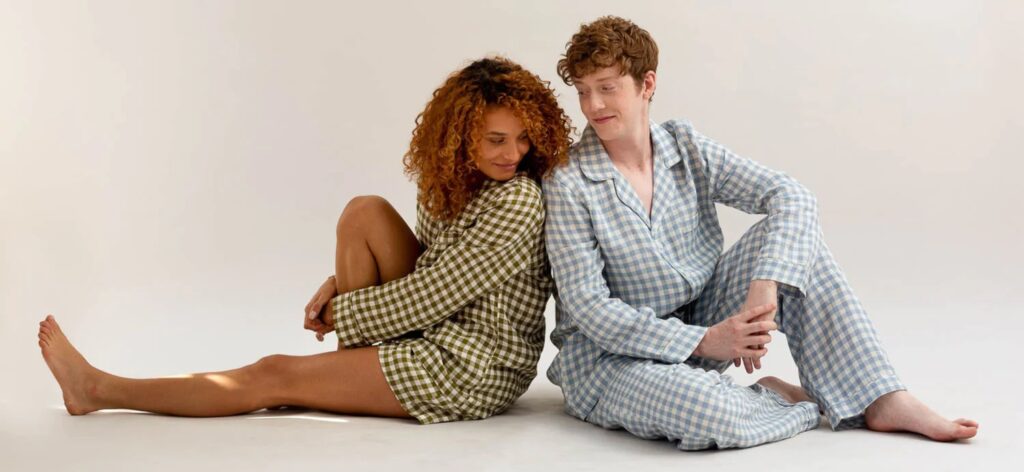 "I am so excited to finally be releasing them. Sleeping in linen pyjamas while wrapped in linen bedding really is the most wonderful feeling."
Seems almost dreamlike doesn't it. Unless you're regularly inclined to sleep in your birthday suit, wearing something/anything as comfortable or as cosy as your bed sheets would have previously been dismissed as merely wishful thinking.
That was, until Piglet came along.