In Conversation With: Ecosophy
Ecosophy is a homeware brand specialising in textile items that are sustainably made and thoughtfully designed. Ecosophy designs products that highlight the elegance of natural materials and the artistry of human touch, using organic fibres, natural dyes and artisanal techniques. Working directly with farmers, weavers and dyers, it uses production methods that support rural livelihoods and environmental regeneration. Ecosophy believes good design is rooted in connection – to materials, their provenance and the people who make them. By designing products that celebrate these connections, it hopes to show how textiles can create beautiful homes and a more beautiful world.
We speak to Kate about why she started Ecosophy and what makes her bed linen so special
---

Tell us a little about yourself, and what inspired you to create Ecosophy?
I'm the founder of Ecosophy, a sustainable home textiles brand. I set up Ecosophy a few years ago when I was thinking of making a career change into interior design. I wanted to pursue a sustainable approach to design, but realised that there were hardly any sustainable products on the market for interior designers to use. I decided to try and fill this gap and spent the next couple of years carrying out research and visiting producers around the world who were pioneering sustainable techniques. Partnerships with these producers soon followed and Ecosophy was officially born.
---

How did you choose the name?
I wanted a name that would encapsulate what the brand represents. I was reading a book on ecology and learned that the roots of the term 'eco' lie in the Greek word oikos, which means household. I loved that fundamental connection between ecology and the home and while going through different options containing the term 'eco', I stumbled on 'ecosophy' and thought it expressed perfectly what my brand was trying to do. My goal is to help people decorate their homes in an ecologically wise way, so ecosophy, which means both ecological wisdom and household wisdom, fitted perfectly.
---

What makes Ecosophy completely different to all the other bed linen brands out there?
I believe that we go a lot further than other brands in terms of sustainability and transparency. I do a lot of research into sustainable production and stay up to date with industry and academic research. My academic background is in anthropology and international development and I think this has given me an edge over other brands in terms of my understanding of the big picture of textile production and its effects on people and the planet. In addition to this research, I visit the suppliers personally and share what I learn from these visits with my customers. I try to be honest about the challenges of sustainable production as well as the potential and I think this honesty, combined with depth of research, is one of the things that sets Ecosophy apart
---

Why did you choose organic cotton to make your bed linen? Talk us through the appeal.
Cotton is the most popular fibre for bedding as it's soft, hardy and versatile. From an ethical perspective, cotton is a big source of employment so has the potential to benefit a lot of people. However, its environmental impact is not so great. This is partly because it's a huge commodity, which encourages farmers to maximise yields through intensive cultivation. But it's also due to the fact that most cotton is genetically modified. This means that it hasn't evolved with the local climate and it lacks the resilience to cope with environmental shocks. It therefore needs a lot of help in terms of water and chemical treatments to grow and survive. These treatments often increase cotton's yields, but at the expense of local wildlife and the long-term health of the soil. I've decided to focus on organic cotton as I think it's the only type of cotton that is sustainable. Organic production is a holistic method that works with existing ecological relationships, e.g. by harnessing predator-prey relationships to control pests, rather than against these relationships by destroying them. Organic cotton yields tend to be around 20% lower than conventional yields, but input costs are lower and the farmer gets a small premium. By purchasing organic cotton, I hope to help farmers grow cotton in a way that is healthy in the short term and sustainable in the long term.
---
Why did you decide to get your bed linen manufactured in India?
My bed linen is actually manufactured in three countries, but I started with India as I wanted to use organic cotton and India is the biggest source of that. I visited farms over there and learned about the potential for organic cotton to create sustainable livelihoods. The farming group I source from has a very good reputation. A lot of academics have studied it and it is often cited as an example of organic production done well. Similarly, the factory where the bed linen is woven has a great reputation and offers a lot of benefits to its staff like subsidised housing and help with medical care. Sourcing from India can be risky as the environmental regulations and working conditions are not as good as in Europe. However, because the industry is so big there and much of the cotton production is done by hand, the potential for sustainable production to have a positive impact is very high. Sourcing from India does require careful research, but there are a few producer groups who are doing amazing work and are worth supporting.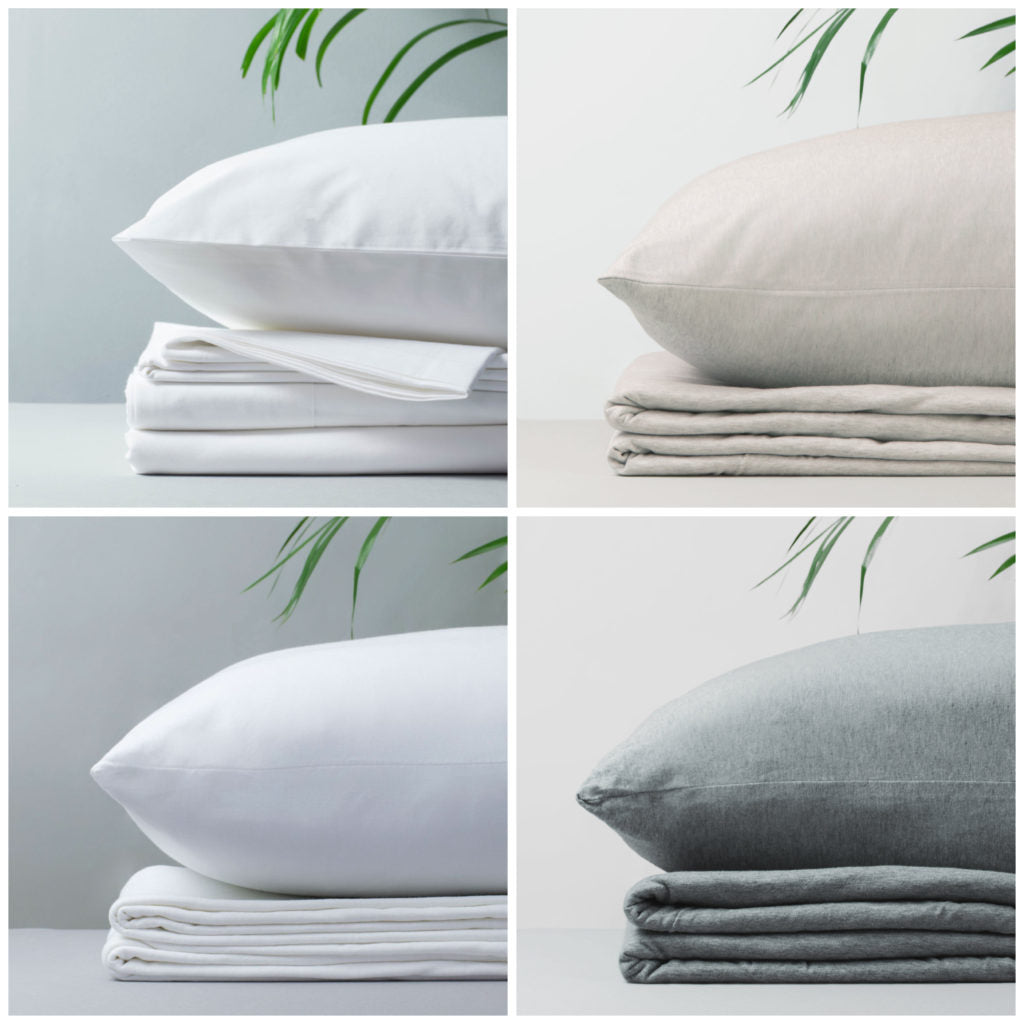 ---

What has been the most rewarding feedback you have received from a customer who has purchased one of your products?
I'd like to say that customers have been inspired by all the information on my website, but to be honest, all of the feedback has been regarding the quality of the products. Customers have consistently praised the softness of the bedding, particularly the jersey bedding, which was recently described by one customer as "the softest, comfiest bed linen" they have ever slept in.
---

Of the Ecosophy products that we are featuring on myza, which is your particular favourite, and why is it a must-have for our customers?
As it's currently the Winter, I would have to choose the organic jersey bedding. It's made of a knitted cotton fabric – similar to T-shirt fabric – which gives it a cosiness and warmth that is perfect for snuggling up in on Winter nights.
---

Where do you see Ecosophy being in the next five years?
I would like it to grow and become the go-to brand for sustainable home textiles. I want it to be a leading voice in the industry and to push the industry forward in terms of sustainability and transparency.
---

Finally, a few pearls of wisdom from you! Run us through your recipe for a great night's sleep, and some do's and don'ts that you recommend following, or including in a pre-sleep schedule.
Everyone is different in terms of what helps them relax, but what seems to make a difference is staying away from electronic screens for at least an hour before bedtime. In addition, I highly recommend choosing the right bedding fabric for the season. We change our clothes according to the season, so it makes sense to change our bed clothes too. Linen is great in the summer as it's light and absorbent. Jersey is perfect for the Winter as it's warm and cosy. And percale and sateen are good for the in-between months. Choose organic where possible, as it really makes a difference to the environment and you will sleep more soundly knowing you've done your bit for the world.
Shop Ecosophy here